Many arts lovers are very fond of Patricia Peides' works and world celebrities such as the famous painter Bernard BUFFET, American film actors Anthony QUINN and Michael DOUGLAS, French movie actor Alain DELON, world-wide known fashion designer Pierre CARDIN, the renown sculptor CESAR, H.R.H. RAINIER III of MONACO, Princess Caroline of Monaco, historian of art René HUYGHE, member of the Académie Française, and many others.
She works with massive bronze, with aluminium and resins which she transforms in master pieces that reveal a powerful flow of feelings witch suggest hope, and revival. Since 1988, therefore, she masters a unique technique in the field of reliefs with numerous glittering facets.
That why Edouard MAC'AVOY, former President of Salon d'Automne, the Fall exhibition of Paris, wrote about her:
"Peides'sculpture has wings. Let her be blessed. Thanks to her flame, thanks to her spirituality, we are delivered. Peides has a remarquable courage to be lyrical at a time of materialistic oppression. When looking at her beautiful white angel opening his long wings which I saw in Monte-Carlo, or when looking at the colourful symbol of France in a shape of a flame placed under a reproduction of the Arch of Triumph, during last year exhibition at the Grand Palais, I had the feeling that Peides'work is an hymn, a prayer, a call..."

Pierre CORNETTE de SAINT-CYR, French auctioneer, who promotes the fellowship exchanges between French and Chinese artists, Albert FERAUD, sculptor and member of the French Fine Arts Academy, and renown art critics as Henri PERIER, Gérard XURIGUERA and Patrice De la PERRIERE, consider that Peides'talent full of spirituality and originality gives her first rank among the contemporary artists who will have an impact on the new millennium.
AWARDED WORKS
Gold Medal and price of the AMATEUR D'ART magazine at the Grand Prix "EUROP ART" in GENEVA (SWITZERLAND), Georges BRAQUE' award, Special Sculpture Price handed by H.R.H. Prince RAINIER III of MONACO at the International Grand Prix of Contemporary Art of Monte-Carlo.
She became one of the youngest members of the famous Salon d'Automne of Paris.
Her works joined in 1996 the CARTIER FOUNDATION for CONTEMPORARY ART, created by Alain-Dominique PERRIN .
Her works can be seen permanently at the Gallery SCOT located 7, rue de Miroménil 75008 Paris (Phone and Fax: 00.33.1.47.42.68.98. Email:www.galerie.scot.com) next to French presidential palace.
EXHIBITION AND MAKINGS
Because she works at numerous projects together with architects, her works had been exhibited especially at MONTREAL, TORONTO, MONACO, NANCY, PARIS (Grand Palais, FIAC with the Italian Gallery TONINELLI Art Moderna, Gallery KATIA GRANOFF, avenue Friendland and avenue Matignon, Caroussel du Louvre with the Société Nationale des Beaux-Arts, Rothschild Foundation), ORLEANS, NEW-YORK, PRAGUE, SAINT-PETERSBURG (invited in 2003 by the Russian academy of Fine Arts to present her works for the three hundred years anniversary of the foundation of the city, SHANGHAI ( Shanghai Art Fair - November 2004)). She participated with three of her huge coloured bronze sculptures – 3, 50 m and 3, 00 m height – at the first Shanghai International Biennial Urban Sculptures Exhibition, in CHINA, from November 18, 2005 to March 17, 2006 beside ARMAN, BOTERO, DI ROSA works, aso. In 2007, December, she designed the CHINA FASHION AWARDS 2007 to celebrate Fashion in 30 years and bring the most glittering line-up of Chinese stars and international celebrities. The show was seen by more than 400 millions T.V. viewers and broadcast by 101 T.V.
Her works also are in many private collections and important companies through out the world (NEW-YORK, MIAMI, HONG- KONG, TOKYO, MADRID, BRUXELLES, MONACO, SANTA FE, ANTIBES, SYDNEY, MONTREAL, Chateau Laffitte BEIJING...). Huge sculptures for public authorities (public commands of Towns halls).
BIBLIOGRAPHY
Patricia PEIDES is mentioned in many reference books: AKOUN guide of contemporary Art, BENEZIT guide, ART PRESS review, UNIVERS des ARTS review, "Femmes Artistes", which is the book of the most famous women artists since the Sixteenth' century to nowadays. Editions REGARDS 1996, ART DROUOT DICTIONNARY. Larousse Cotations, catalogue of the Cartier Foundation for Contemporary Art Collection. Valued at Hôtel Drouot Auction Sales, where her works have been sold, she is considered as a safe and good investment in the contemporary sculpture.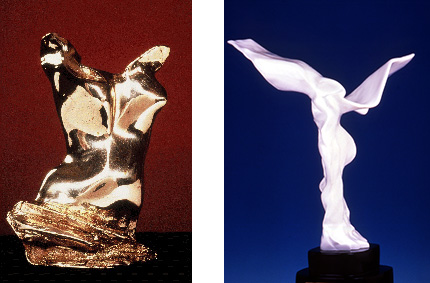 Rights granted and rights reserved
All content available on the Site
www.patriciapeides.com
including, but not limited to, text, graphics, logos, button icons, images, audio and video clips, , and the compilation thereof are the property of Patricia PEIDES and are protected by FRENCH and international copyright and other similar laws.
The intellectual property rights of the works in the Site and the Content belong to PATRICIA PEIDES
You may not copy, reproduce, republish, download, print, post, perform, broadcast, record, transmit, commercially exploit, edit, communicate to the public or distribute in any way the Site pages, any Content or the computer codes of elements comprising the Site.
Any use which is not permitted by these Terms of Use may only be undertaken with her prior express written consent/